Glazing can be a high area of heat loss from a property. This can be reduced wth the installation of double or triple glazing. This type of glazing uses 2 or 3 layers of thin glass with a cavity.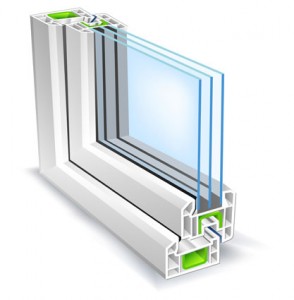 The elements affecting a window's performance include:
No. of Glass Layers (more is better)
The Cavity Width (increasing this will reduce the heat loss)
The Gas in the Cavity (argon and krypton are better than air)
Spacer Bars (foam loses less heat than aluminium)
Low Emmisivity Coating (this reduces the heat loss due to radiation)
Thermal Breaks in the Frame
The Frame Material (wood and plastic lose less heat then aluminium)
Currently most double glazed windows have a U-value of 1.6.