Greener Space provides BER assessments in the greater Dublin area.
Building Energy Ratings (BERs) for Existing Houses/Apartments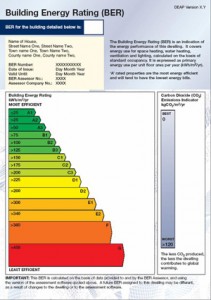 A BER cert tells a prospective buyer or tenant how energy efficient a dwelling is. The rating is in the range of G up to A1. A1 represents an extremely well insulated house which uses very little energy for lighting and heating. G represents a house which has little insulation and inefficient heating systems.
The BER certificate is accompanied by an Advisory Report setting out recommendations for cost-effective improvements to the energy performance of the dwelling.
An existing house or apartment does not have to acheive any particular rating. The purpose of the BER certificate is to inform the buyer or tenant of the rating. BER certificates are valid for 10 years.
An assessor must visit each dwelling to perform the survey. The survey involves measuring and assessing the details of each heat loss area such as walls, roofs, floors and windows.
All space and hot water heating systems are assessed, along with ventilation, lighting and savings from renewables. This information is then used to calculate the energy rating of the dwelling.
The survey takes 1 to 2 hours depending on the property size. The BER Certificate and advisory report are usually available within 1-2 working days after the site assessment.
What does it cost? – Prices from Eur150
Greener Space provides quotes for all types of houses and apartments for BERs in Dublin and surrounding areas. The cost depends on the type, size and location of the dwelling. Discounts are available for batches of similar dwellings in the same area.